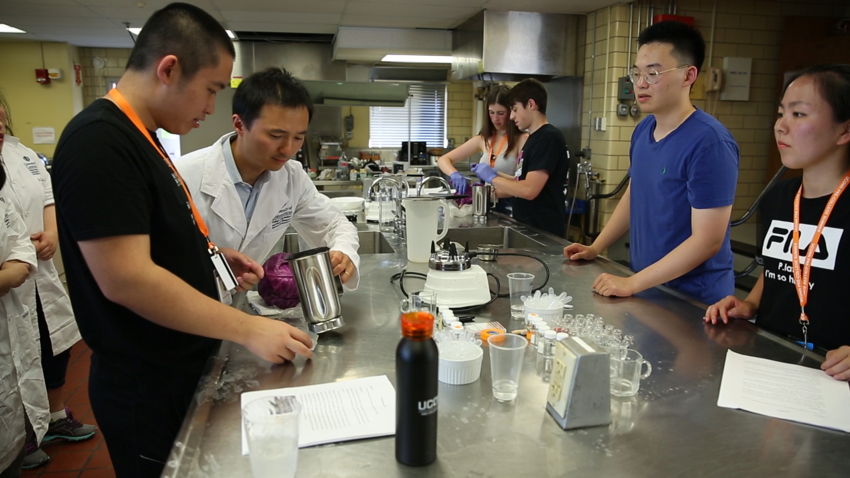 The Department of Nutritional Sciences offers two Pre-College Summer Courses.  Please check later in the fall for more information to register the courses.
The science behind modern nutrition
The UCONN Pre-College Summer course in Human Nutrition and Health is an introduction to the field of nutritional sciences. During the week we will discuss how the human body turns food into energy, whether there is any scientific evidence supporting fad diets, and how nutrition and health are linked. We will have in-class activities, short video-clips, and lively discussions about how nutrition (and the science of nutrition) plays a role in obesity, diabetes, and heart disease. There will also be hands-on lab experiences.
We will also discuss:
The methods of nutritional science including epidemiology, human nutrition studies, and molecular nutrition/nutrigenomics
The impact of nutritional science in society
Food culture and security
This course is designed for students interested in pursuing a career in nutrition, food science, medicine, public health, social justice, or any career in the health sciences. Careers opportunities in the field of human nutrition will be provided.
Faculty: Dr. Loneke Blackman Carr, Assistant Professor, Department of Nutritional Sciences, University of Connecticut
Explore the field of food science
You make decisions over numerous food products every single day. Knowing the science and technology behind food products helps you make healthy food choices. The field of food science and technology includes food microbiology and safety, food quality assurance, food engineering and technology, food chemistry, product and formulation development, food packaging, sensory evaluation, food marketing, and food regulations.
In this 1-week introductory course, students will learn:
basic terminologies and concepts of food production
modern technologies used in the food industry
physical and chemical changes in food products during storage
key practices to assure the quality, safety, and palatability of raw and cooked foods
general facts and relevant food regulations that consumers should be aware of
career opportunities in the field of food and nutrition
This course is composed of in-class lectures and hands-on laboratory experiments to help students turn their knowledge of the principles of food science into practices as a food scientist.
Faculty: Yangchao Luo, Ph.D.,Assistant Professor, Department of Nutritional Sciences, University of Connecticut