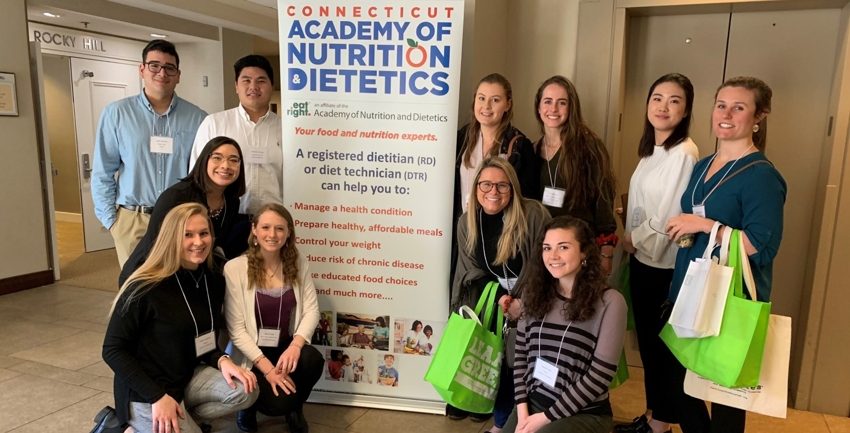 This student-led organization promotes student participation in nutrition-related activities for the purpose of furthering nutrition knowledge, promoting healthful living, and enhancing career development.  It provides an excellent opportunity to reach out to the campus and community, as well as to promote leadership training. Activities include National Nutrition Month tabling events, dining hall events, volunteering at an afterschool program in Willimantic, collaborating with the Kidney Disease Screening and Awareness Program to conduct free screening events, participation in professional meetings and MANY more! We welcome ALL UConn students, regardless of their major area of study. We cater our meetings to direct our members, always taking into consideration what members want to see the club get involved in!
When you meet
We meet every other Thursday starting in September/January.
For time and locations, please visit contact us at uconnnutritoinclub@gmail.com, visit our Instagram at @uconnnutritionclub, or join our Facebook group! https://www.facebook.com/groups/127825643953014/
Why you should get involved
If anyone of the following describes you, check out the Nutrition Club:
You have an interest in food and nutrition
You want to participate in on and off-campus nutrition-related volunteer opportunities
You want to increase your professional development
You want to assume a leadership position
You want to join a community of like-minded nutrition enthusiasts
If you are a Nutritional Sciences major looking to get more involved with the department and hear firsthand about research opportunities
You want to build your resume with volunteer and professional experience
You want to attend a Connecticut Academy of Nutrition and Dietetics annual meeting with other club members
Club Activities
National Nutrition Month Student Union tabling
Hartford Marathon Nutrition Village tabling
Village Heights After School Snack Program
Spring Bake/Basket Sale Fundraiser
Grocery Store Dietitian Volunteering and Shadowing
Build Your Own: Grain Bowl, Smoothie Bowl, Bruschetta – dining hall collaborations
Kidney Disease Screening and Awareness Program – Free screening events
Connecticut Academy of Nutrition and Dietetics Annual Spring Meeting
Club dues are $10.00 per semester and membership is open to all UCONN students.
Please contact at uconnnutritionclub@gmail.com for more information.