Food Science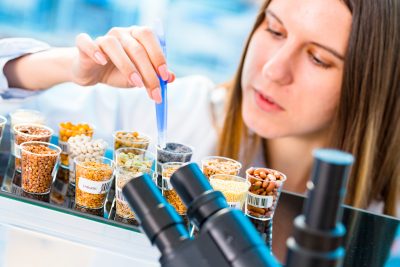 This minor addresses food science as an academic discipline that utilizes approaches for solving applied science problems associated with the acquisition and processing of food. All students are required to complete at least 15 credits as outlined below:
All of the following: ANSC/NUSC 1645; ANSC 4341; NUSC 3233.
One of the following: ANSC 3343, 3641.
Additional courses from Group B, or the following list to meet the 15 credit total minimum requirement: ANSC 3318, 5641; ARE 3260; NUSC 5500; SPSS 2100.
Students must earn a combined grade point average of 2.5 or higher for all courses listed above. The minor is offered by the Animal Science Department and the Nutritional Sciences Department.
Food Science Minor Recommended Course Sequence
Food Science Minor Plan of Study
To earn the credential of this Minor, students must declare the Minor by submitting the Final Plan of Study after the completion of their required coursework listed above. Students interested in pursuing this minor should contact Dr. Yangchao Luo at yangchao.luo@uconn.edu
Nutrition for Exercise and Sport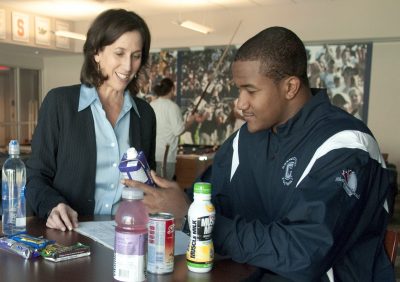 This minor has been established in cooperation with the Departments of Kinesiology and Allied Health Sciences.
Students interested in earning the minor should be aware that the required courses have prerequisites. These include NUSC 1165, PNB 2264, 2265 and MCB 2000.
All students are required to complete a minimum of 18 credits for the minor.
Students in this minor must complete: NUSC 4236, 4250; KINS 4500, 4510; and two or more of the following courses for an additional 5 credits: NUSC 4260, 4299; KINS 3098, 3099, 3320, 3530, 3545; AH 3101, 3231 or 3234.
Nutrition for Exercise and Sport Minor with Didactic Concentration Recommended Course Sequence
Nutrition for Exercise and Sport Minor Plan of Study
Students should meet with the minor advisor Dr. Michael Puglisi at michael.puglisi@uconn.edu. before declaring the minor. Students may declare the minor online at ppc.uconn.edu.